There are few things in life as valuable as a handwritten letter. Whether you're sending or receiving, a personal note written in the unique script of a friend or loved one is something to be treasured. Even if your scrawl is more 'scribble' than 'scribe', taking the time to put pen to paper can be an incredibly meaningful gesture.

There's a good reason so many people hang on to their old love letters. Although email is arguably more efficient, a letter provides so much more than its content. After all, it is a physical representation of the time and effort that you spent composing and posting it; no small thing in our frantic, fast paced world.

Studies suggest that handwritten letters come across as more honest than emails, and writing them can even make you happier…the more you write, the happier you get!

We spoke to Alison Hitchcock, co-founder of charity From Me To You, to find out how handwritten letters are giving a new lease of life to cancer patients.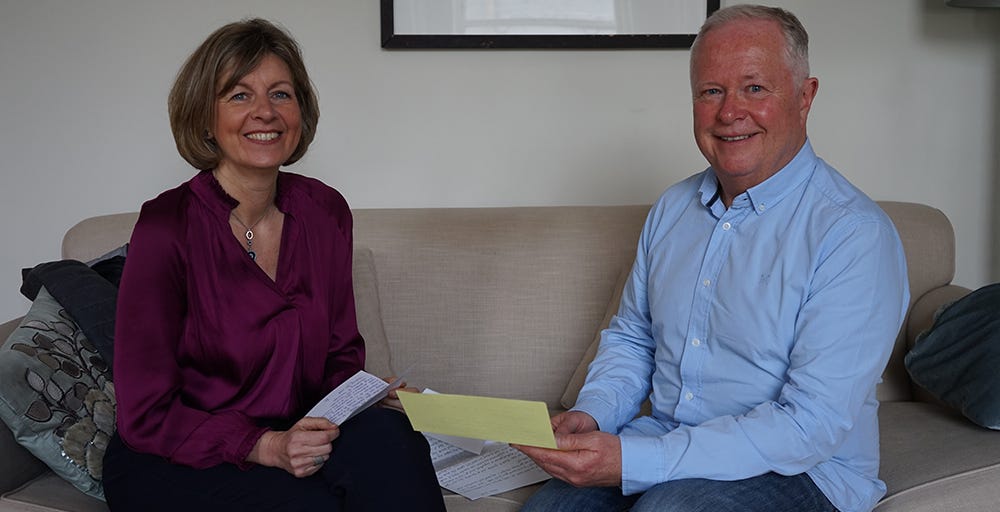 Alison and Brian re-reading the letters that started From Me To You.
When her friend Brian was diagnosed with bowel cancer in 2010, Alison began sending letters to cheer him up. Three years and more 100 letters later, Brian got the all clear – and Alison had a newly discovered passion for writing – but the pair knew they had stumbled across something special. To celebrate Brian's recovery, and to help other people undergoing treatment, they set up their charity in 2016.

The idea is simple but powerful: "From Me to You encourages and inspires people to connect with friends, family and strangers who are suffering from cancer by sending them a letter or card. A 2013 Macmillan report found that 30% of cancer patients experience social isolation and of those 25% go on to suffer from depression. Something as simple as a letter can help cancer patients feel connected when they are feeling most disconnected."
"We had a beautiful handwritten letter… The hand written touch rather than a photocopy was just perfect. It helped her feel there is a world beyond cancer and treatment, it helped her feel not so alone."- Rachel, family member of a From Me To You recipient
Through running workshops, speaking at events, and hosting a website full of writing tips and inspirational stories, the charity's focus is encouraging people to write a handwritten note to loved ones undergoing treatment. Alison explains, "a letter will brighten someone's day and distract them from the awfulness which is their current reality. It also lets them know that they are not alone and other people are there thinking of them."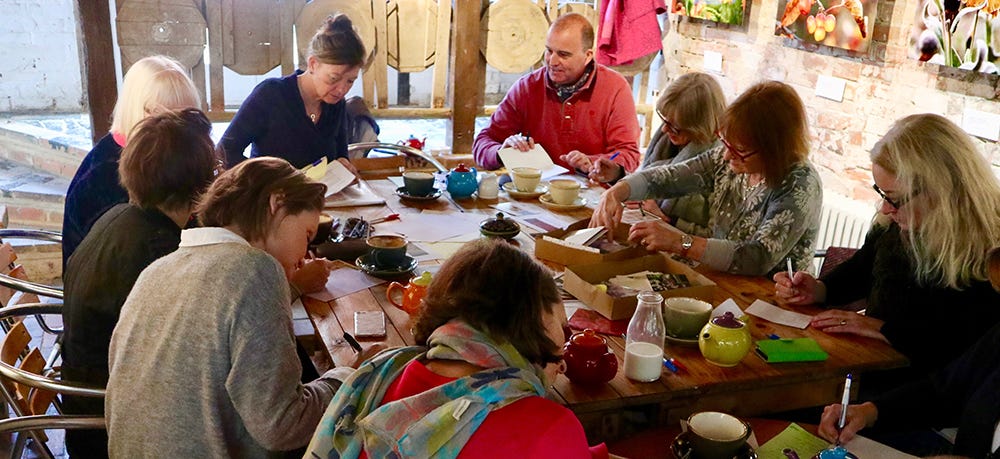 One of From Me To You's letter writing workshops in progress.
While you don't have to handwrite your letters – they can also be typed – Alison recommends it. "Handwriting seems to give a more personal qualityto the letters. We think it is important that a letter can be held – so little in the digital world involves the sense of touch – and that it will be re-read, shared with others and can be placed somewhere in view as a reminder that someone has taken the time and care to send it. None of this is true of emails."

While Brian saved his letters to distract him during chemo, the benefits aren't just one-sided. "As a friend you often feel helpless when someone you love has cancer. Writing a letter is a simple way to feel that you are doing something supportive." A letter is a precious, personal object that you can touch, hold, re-read and share; a simple, effective way to remind your friend that they're still connected to a world beyond their treatment.
"I lost my partner to cancer last year after two years of treatment, I saw how cards and gifts through the post used to brighten up her day. I am happy I can now do that for someone else."- Tom, From Me To You letter writer